Creative Marketing Agency in Nepal
Focusing all our energy to create the strategies that make your brand shine
Hypeyeti was founded with the goal of helping clients thrive in today's highly competitive marketing environment. We find a fine balance between marketing capabilities while expanding our team with seasoned professionals to support traditional and digital marketing. Bolstering our clients' marketing needs, we are a leading marketing agency in Nepal.
Branding refers to the process of developing and establishing a distinctive identity for a product, service, or company.
Branding creates a sense of connection with your customers which helps boost sales. Brand speaks great volumes in defining the overall success of the company and it sustainability. Want to increase your brand value?
Influencer Marketing includes working with people who have sizable and active following on social media and other platforms.
Such influencers have some control over their followers' purchase behaviors and can direct them toward your business. It is a relatively new digital marketing channel that is effective and not overused by digital marketing agencies in Nepal.
Social Media Marketing is utilizing the popularity and dominance of social media to market your products and services to generate more leads and sales.
Social Media is the most convenient way to directly connect with your target audience.  Due to the massive increase in the number of mobile users, Social Media Marketing is booming like never before. Almost every brand you know is on social media and advertising their products and services.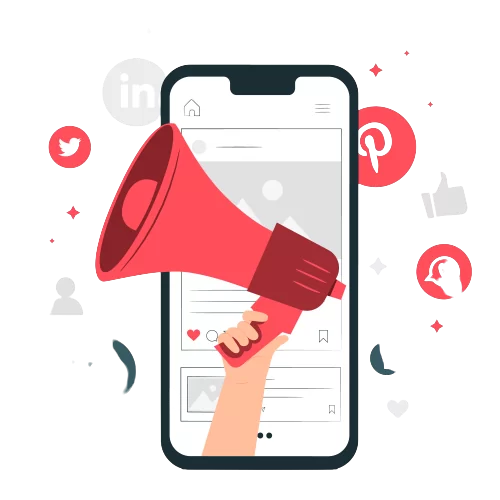 Search Engine Optimization
Search Engine Optimization (SEO) is the process of improving the quality and frequency of website traffic by improving your website's ranking on search engines.
SEO is popular as it is an organic way of getting visitors to your website. As SEO is organic, it takes time to show results and grows over time. In the long run, SEO offers various branding and sales benefits. SEO is a specialized digital marketing service provided by marketing agencies.
While SEO is an organic process and has its benefits, businesses cannot afford to wait around for a long time. For quicker results, we have Search Engine Marketing (SEM) that displays your ads on top of organic results based on the PPC system.
Search Engine Advertising or SEM is the way to go for those businesses that want to grow and reap the benefits of digital marketing quicker.
Google Maps Optimization / Local SEO
Google Maps Optimization, also known as Local SEO includes improving Google Maps Profile for increased visibility and interaction on Google Maps.
The increasing use of Google Maps makes this marketing channel more interesting. Local SEO is popular and has proven more beneficial for those businesses that require walk-in customers for sales, however, it is useful for all sorts of businesses. 
Graphics Designing is creating interactive visual content that talks with your viewers about your products and services.
Our designs seamlessly tag along with your initiatives and brand value. Without a good design, you cannot influence people much. Design is the first judging criteria. Your potential buyers wouldn't even read the your tag line, if it's not in a good design. 
Website is the representation of your business in the digital world. Its design should communicate your brand personality, values, and pain points your business solves. 
Our expert team not only works on the plan you provide but suggest changes if it feels necessary during the process of web design and development. We do a complete review and alterations until you get a website that follows your brand guidelines. 
Digital Marketing includes modern marketing strategies like Search Engine Optimization, Social Media Marketing, Email Outreach, Influencer Marketing, and many more. While the traditional approaches for marketing are still useful in a way, they are difficult to measure and quantify. On the other hand, digital marketing is all about quantifiable growth. Additionally, it offers a wide range of targeting parameters for more accurate campaign setting and tracking. 
Targeted Audience Group 
Higher Return on Investment 
24/7 Online Marketing
Easy to Measure and Quantify Return on Investment
Retargeting and Remarketing 
Why Choose HypeYeti for Digital Marketing?
We follow a simple and transparent process. It starts with understanding what makes you unique and directing it to create an unforgettable customer experience. Our goal is to make your brand stand out from the digital clutter. Focusing all our energy on creating the strategies that make your brand shine, we contribute towards building your brand persona. We focus on improving the metrics that matter to upscale your business; brand engagement, sales leads, and conversion.
How costly is digital marketing in Nepal?
Digital marketing is not costly in Nepal. As a matter of fact, businesses in countries such as Europe, USA and Canada outsource digital marketing tasks to Nepal. Determining an exact cost depends on various factors such as platforms, target market, geography, time frame, etc.
What should I look for when choosing the best digital marketing agency in Nepal?
When determining the best digital marketing agency for you, you should look for the their experience, agency's niche and team members.
What solutions can marketing agencies in Nepal offer me?
Marketing agencies in Nepal offer various services such as TV Ads, Social Media marketing, SEO, etc.
Do I need to build my own in-house digital marketing team?
No. You can work with a digital marketing agency in Nepal to handle your marketing while you work on smoothly operating your business.
Marketing is a key part of the hotel and leisure industry. Marketing bridges the gap between hotels and customers.
Read More »
The clothing industry is highly competitive, with global brands dominating most of the sales. It is so crowded that
Read More »
Gone are those times when you'd have to book hotels and manage transportation for a trip all by yourself.
Read More »